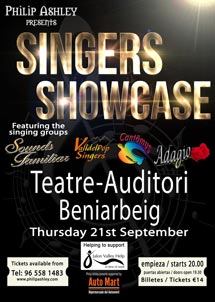 On Thursday 22nd September Philip Ashley presented the Singers Showcase at the Beniarbeig theatre, with support from the Jalon Valley Help team at front of house and with the raffle.
As Philip said he sings because 'singing is fun' and 'when words fail, music speaks' which of course 'brings pleasure to people everywhere'. It was certainly evident that the four groups which Philip was highlighting were certainly having fun, and that fun and enthusiasm soon spread to the audience. Each group had its own style of singing and included:
Adagio – whose aim is to entertain you with good music, fun and humour. This they certainly did with style, as highlighted by their versions of 'Unchained Melody' and 'Lullaby of Broadway'.
Sounds Familiar – like to perform musical revues and they gave us two ends of their skills with 'The Time of My Life', from Dirty Dancing, and 'Pirates of Penzance Medley', with wonderful costumes.
Cantamus – offered us a range of light classical songs, within a theme of spiritual, religious and uplifting, which included a beautiful medley of 'Over the Rainbow' and 'What a Wonderful World'.
Vall Del Pop Singers – is a group of ladies, looking for men to join their group, who get together for the joy of singing, who showed their range with 'I Have a Dream' and 'I'm a Believer'.
Philip, who encourages, trains and directs these groups, showed us what a fine singer he is with an incredibly beautiful version of Celine Dion's 'It's All Coming Back To Me Now'.
There was truly something for everyone in this well put together show, which climaxed with the combined groups closing the evening with 'New York, New York' – which my wife then gave me again and again on the way home!!!
Article by Peter Sockett
Photos by Debra Miller