2015 - Back To The Musicals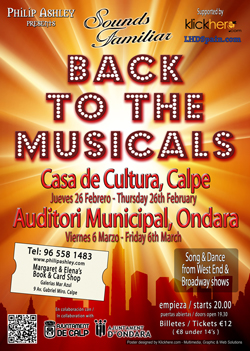 "Excellent, Exceptional, Thoroughly Entertaining - These are just some of the statements made by audience members as they left after seeing the latest Sounds Familiar show "Back To The Musicals" in Calpe and Ondara.
The audience were treated to 3 numbers each from 10 different shows ranging from Chicago and Carousel to Les Miserables and Starlight Express.
The first half was full of colour, humour and dance from the more classic musicals and the second half focussed more on the drama of the modern musicals. It would be very difficult to pick out any specific highlights because the list would be too long, but the cast had obviously been drilled in their movement by Choreographer Joy Starling, and in their singing and general performance by Philip Ashley, creating a truly entertaining evening for the audience.
The cast must have been run ragged backstage as the show ran seamlessly. Everyone appeared in different costumes throughout the show that were appropriate to the current musical being showcased, and made it look effortless.
They left the very best till last with all the solo singers from the evening blending together in One Day More from Les Miserables, at one point singing 7 different tunes at the same time and keeping it together. The effect was completed when the rest of the cast joined in for the big finish, complete with flag and patriotic French colours.
Credit should also be given to Debra Miller for her skill as a Stage Manager ensuring everyone, and everything, was where they should be, and to Zach Miller for keeping the sound and lighting running smoothly so that everyone was seen and heard while also creating the right atmosphere for each musical.
Sounds Familiar, under the direction of Philip Ashley, have certainly set themselves a much higher standard than in previous years, and will have to keep working hard to maintain or improve on this production."
Images courtesy of Kieran Wood