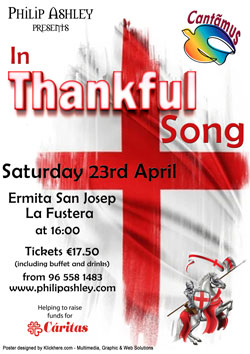 To celebrate St. George's Day, Cantãmus choir performed a concert called "In Thankful Song" at the Ermita de San Josep, La Fustera (Benissa coast).
The choir's Musical Director, Philip Ashley, put together a selection of many well-known songs and included a few numbers about England in honour of the Patron Saint. The aim of the concert was to spread a message of hope, and also to help lift everyone's spirits.
In addition to the concert was bucks fizz on arrival along with one of Philip's, now famous, buffets as well as another two drinks included in the ticket price.