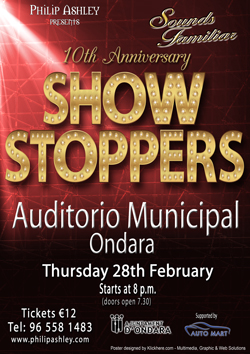 Sounds Familiar kicked off their 10th Anniversay year with a selection of music entitled Showstoppers.
Over the past 10 years Sounds Familiar have tackled a wide range of music, but musical theatre is their favourite genre. That is why this show featured hit music from a variety of Broadway and West End musicals.
The cast of 18 which included 4 members who were in the first show Sounds Familiar ever performed, had enormous fun putting together the evening's entertainment and enjoyed revisiting some of their previous routines and giving them a new twist.
The show took you on a tour of musical theatre, so whatever your favourite style of music is, there was something for you in this production. The most colourful and lively number was probably the Joseph Megamix, from Andrew Lloyd Webber's Joseph and the Amazing Technicolour Dreamcoat, and is itself a medley of the best numbers from that show. The comedy and underlying drama of Tradition was recreated although it's usually seen as the opening number to Fiddler on the Roof.
The humour of many of the numbers from Cats was evident as the cast went through Jellicle Cats and Skimbleshanks the Railway Cat. Other light-hearted numbers included Broadway Baby, Hello Dolly and two of the ladies praising each other one minute and telling each other "the whole stinking truth" the next in Bosom Buddies!
Cole Porter maked a welcome return to the group with his elegant shows Anything Goes and High Society.
The video below is a compilation of clips from the show.