2017 - Pop Meets Classical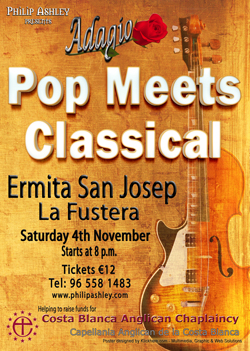 The Costa Blanca's newest music group, Adagio, are performing their debut concert on Saturday 4th November at the Ermita San Josep in La Fustera. This concert is filled with a wide variety of music from Pop to Classical and promises to be an evening of fun and singing and includes classical, pop, jazz, and musical theatre.
The seven members of Adagio have worked hard to put together their programme, which is as varied as it is fun. The songs range from Mozart to Elvis Presley, although not always as you would normally hear them, for example did you know that Beethoven's 5th Symphony has words to go with it?