2017 - Music Of The Night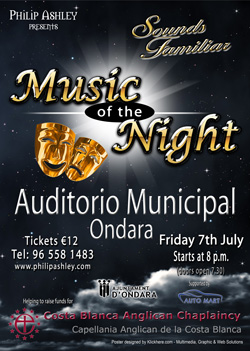 Music of the Night had everything for musical theatre lovers, from Rodgers & Hammerstein to Andrew Lloyd Webber.
The show featured many of the best loved musicals including Fiddler on the Roof, Jesus Christ Superstar, Oliver, Sound of Music, Phantom of the Opera and more.
As usual the cast appeared in their regular Sounds Familiar uniform, but soon began changing into various more elaborate costumes. The shows were grouped together to avoid the performers having to change too much between songs, as in Back To The Musicals in 2015.
Images courtesy of Debra Miller & Chris Farrow