2022 - Magic Of The Musicals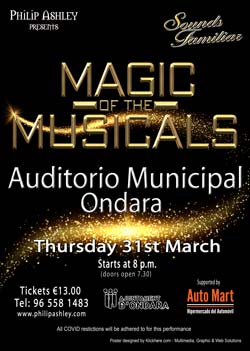 After an absence of two years Sounds Familiar returned to the stage with their revue entitled Magic of the Musicals. The show was put together by the groups Director Philip Ashley and was performed in Ondara on 31st March. The production featured excerpts from a diverse array of musicals and received excellent reviews from the audience.
The show opened with the opening numbers from Something's Afoot, a musical comedy based on an Agatha Christie novel. The cast were kept on their toes as most of them had to change from travelling clothes, to dressing gowns, and then to evening wear during the coarse of the first song, so the choreography backstage was as important as the direction on-stage.
The range of songs and shows kept the audience entertained with comedy numbers, showstopping ballads and full company numbers. The infamous Sounds Familiar Ladies got a lot of laughs when they put in an appearance in dressing gowns, slippers and their hair in rollers, to sing 60 Going On 70 - a rewording of the Sound of Music classic 16 Going On 17 rewritten by Pat Doidge.
The men, not to be outdone, began the second half with a set of numbers from La Cage Aux Folles with four of the men in full drag and makeup.